In a recent post on David Bordwell's blog, Observations on Film Art, he made some very generous comments about Television Style, comparing it to some other new books. Here is what he had to say about Television Style:
Jeremy Butler's new book Television Style offers the best case I know for the claim that there is a distinct, and valuable, aesthetic of television.
Following his own study Television: Critical Methods and Applications (third edition, 2007) and paying homage to John Caldwell's pioneering Televisuality, Butler gets down to the details of how various TV genres use sound and image. Butler's conception of genres is admirably broad, considering dramas, sitcoms, soap operas, and commercials, each with its own range of audiovisual conventions and production practices. His discussion of types of television lighting complements Keating's analysis; put these together and you have some real advances in our understanding of key differences and overlaps between film and video.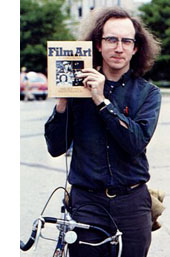 Kristin has met Jeremy, but I haven't yet. In any case, Television Style shows that he's a kindred spirit who's made original contributions to this research tradition. Like Jinhee [Choi], Patrick [Keating], Pat [McGilligan], and David [Neumeyer], he demonstrates that we can better grasp how media work if we study, patiently and in detail, the creative options open to film artists at specific points in history. He began thinking about these matters in 1979, as the photo attests.
None of this is to say that artistic norms or industrial processes are cut off from the wider culture. Rather, as becomes very clear in all of these books, cultural developments are often filtered through just those norms and institutions.
For example, everybody knows that in classical studio cinema, women were usually lit differently from men. But Keating notices that often women's lighting varies across a movie, depending on story situations. He goes on to make a subtler point: there was a greater range in lighting men's faces. Men could be lit in more varied ways according to the changing mood of the action, while lighting on women was a compromise between two craft norms: let the lighting suit the story's mood, and endow women with a glamorous look. The fluctuations in the imagery stem from adjusting cultural stereotypes to the demands of Hollywood's stylistic conventions.
Careful studies like these, alert to fine-grained qualities in the films and the conditions that create them, can advance our understanding of how movies work. Pursuing these matters takes us beyond both the movie in isolation and generalizations about the broader culture; we're led to examine the filmmaker's tasks and tools.